Happy Valley, Oregon
Happy Valley Crossroads East
The Happy Valley Crossroads East is a six-building retail center linked together by pedestrian-friendly plazas that invite shoppers, diners, and other visitors to enjoy vibrant, bustling spaces that feel like an extension of the neighborhood. Designed to activate the street and attract attention from the main roads nearby, the site was carefully planned to maximize visibility at a distance while creating an energetic and rejuvenating retail environment.
A variety of outdoor seating integrates with lush landscaping that offers indoor-outdoor merchandising opportunities, accommodating individuals and small groups as well as larger special events. Located at the eastern edge of Happy Valley's commercial district, Crossroads East is designed with a variety of materials that contribute to the city's friendly Main Street aesthetic and is accessible for those arriving by car, transit, bike, or on foot.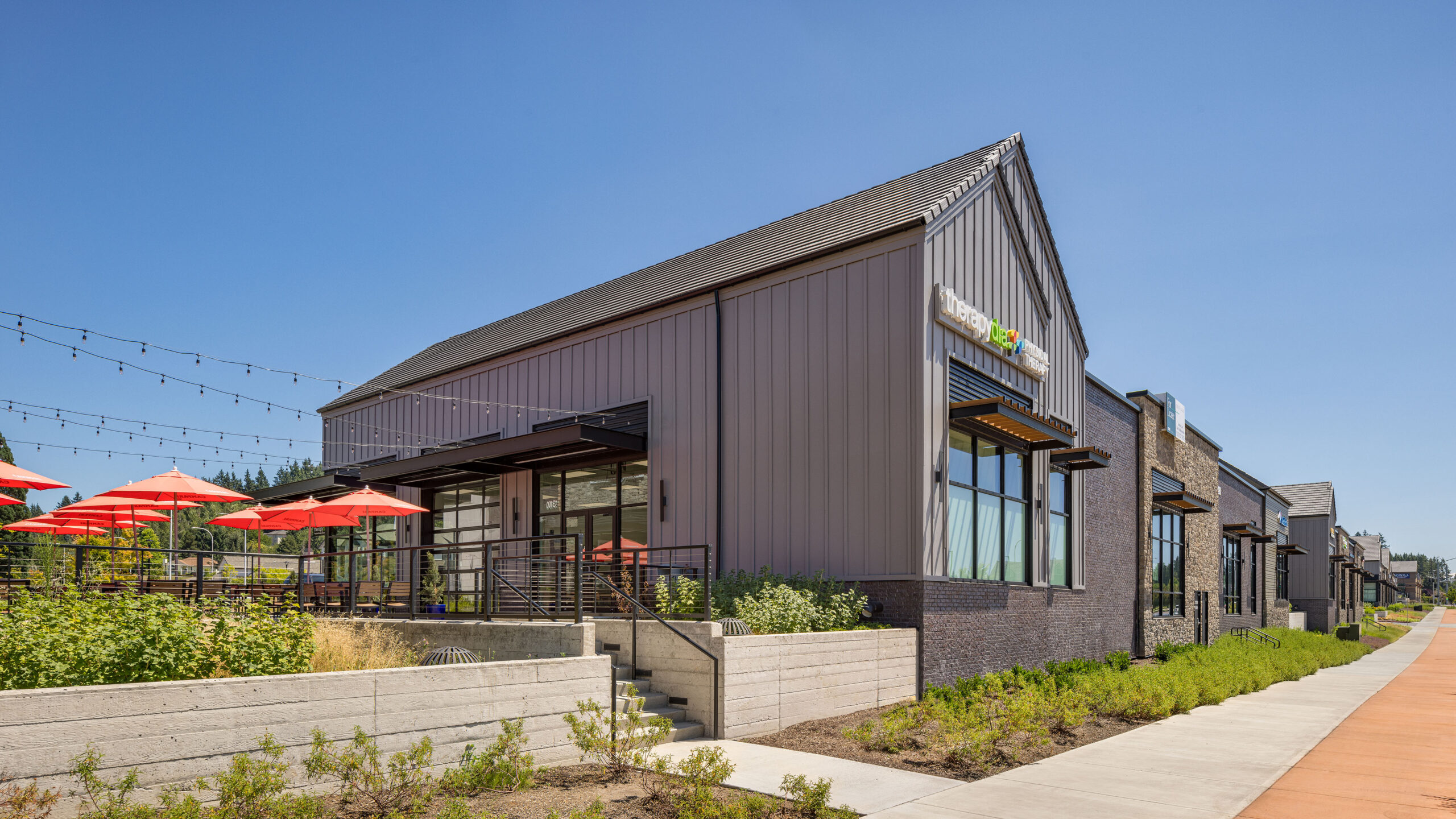 The Happy Valley Crossroads East retail buildings feature a modern interpretation of the classical farmhouse form that once dominated the region, with gable roofs clad in cultured stone, board and batten siding, or clapboard siding. The variation in roof heights and profiles combined with the stepped facades and a mix of siding materials helps to minimize the size of the larger buildings and create a more interesting pedestrian experience. Dark brick clad connecting walls help to define individual retail spaces, establishing indoor-outdoor zones for each tenant.
Large, prominent windows were a priority on all four sides of the retail buildings, maximizing and diversifying merchandising options. Canopies, trellises, and awnings offer sun and weather protection, and offer additional space for creative signage. On the street sides, extensive plantings help to soften the street edge and create a transition from the road to the shops. Wide internal sidewalks link the internal parking to the plazas and buildings, providing shoppers with more space to linger and explore without feeling hurried. The result is a rich pedestrian-scaled retail experience that feels like strolling along a shop-lined sidewalk.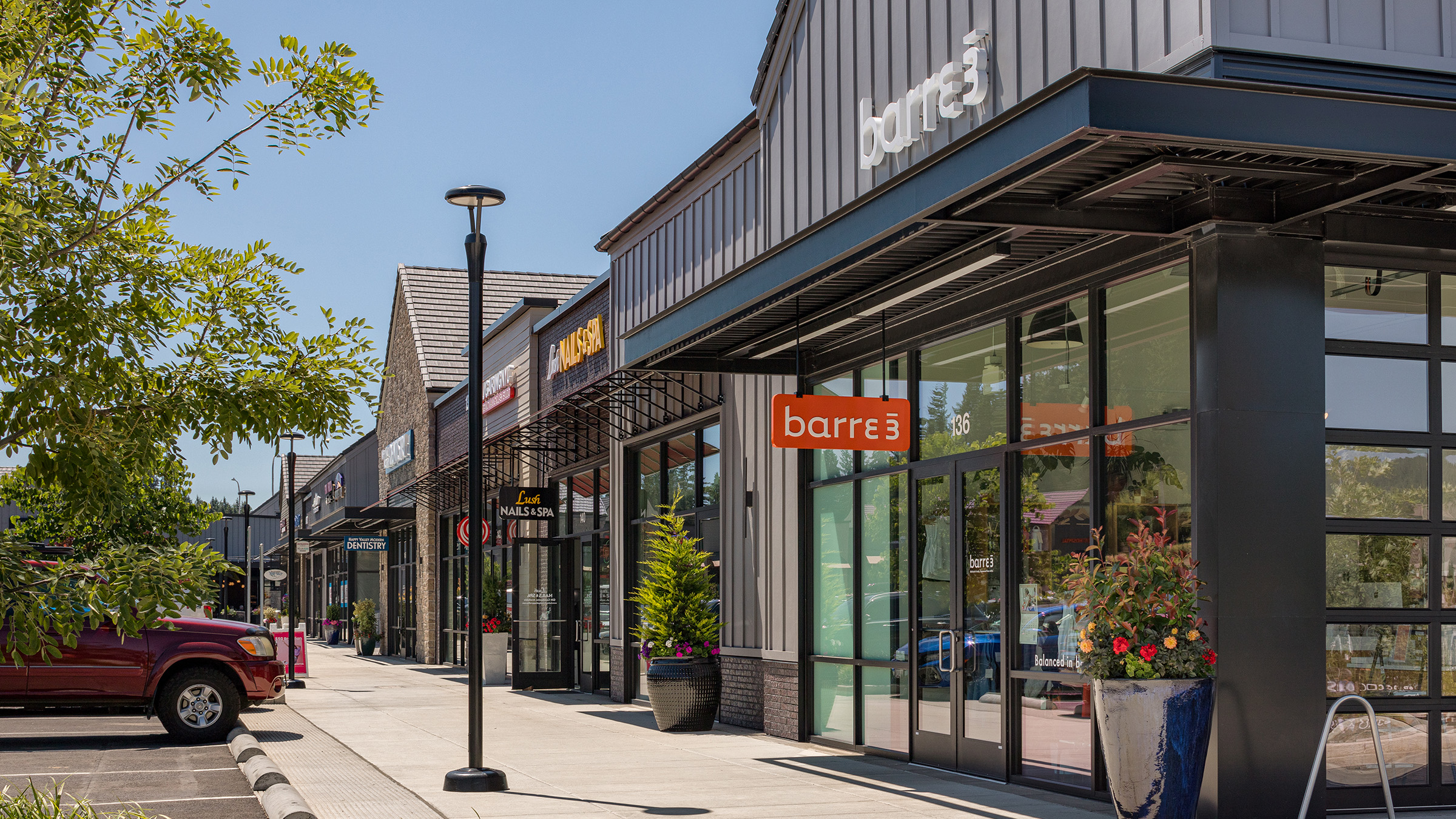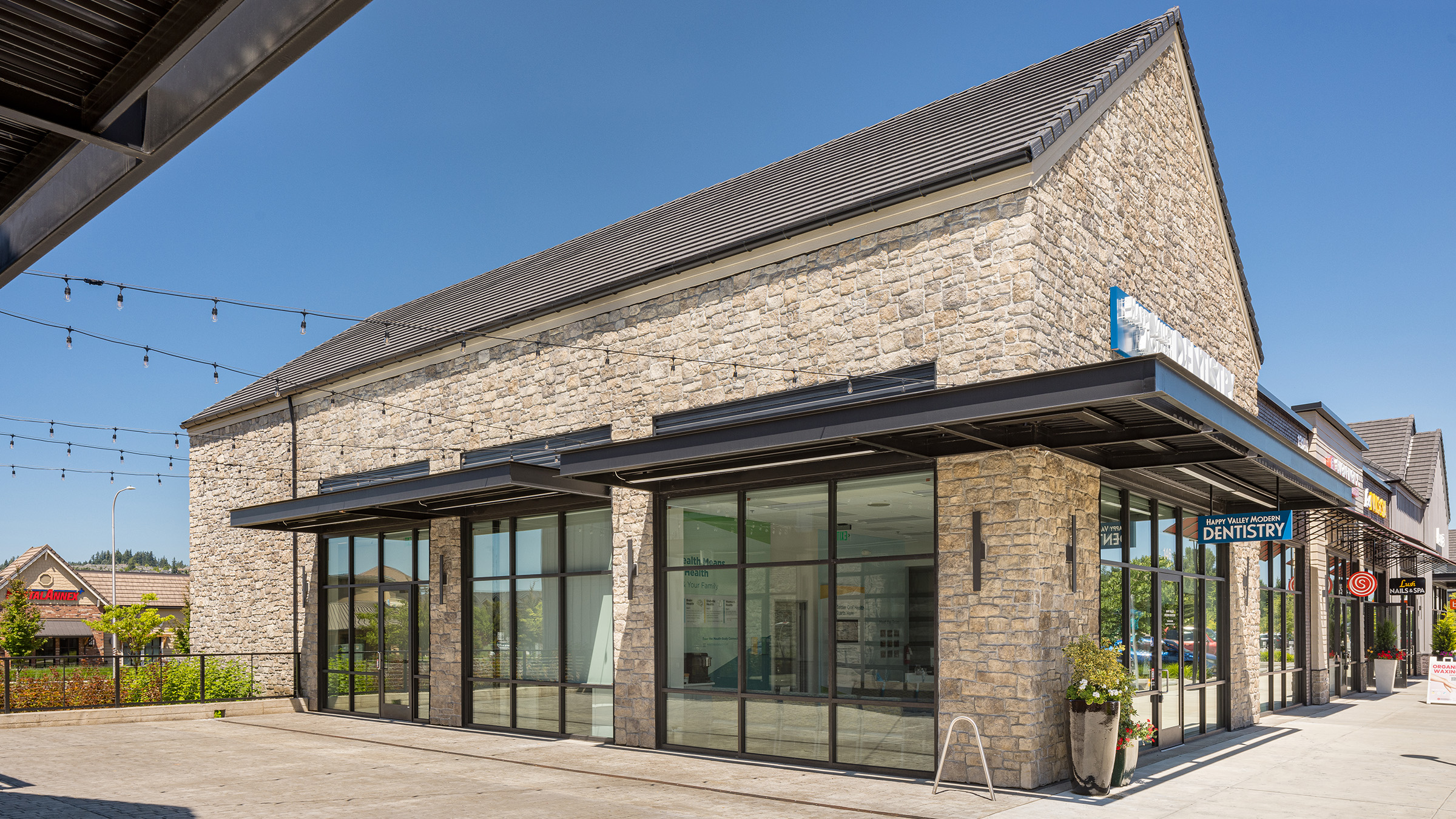 At Crossroads East, the outdoor areas between the buildings are just as important as the indoor spaces. A distinctive water feature at the southwest corner of the site anchors the main pedestrian entrance to the largest of the plazas, providing a backdrop for the marquee branding and offering a sound and visual buffer. Plazas are positioned adjacent to each building to create "outdoor rooms" with native plantings that offer more space for visitors to meet, rest, and enjoy the setting. They are raised, adding a layer of protection from traffic and providing better views of the activity across the site. A combination of string lights and recessed paving lights accentuate the activity in the plazas and create a festive evening atmosphere.