Services
Design
Procurement
Signage
FF&E
The story of the Kinokuniya Bookstore begins in the Guild Theatre, a historic theatre across from downtown Portland's Director Park. Originally built in 1927, the building sat vacant for over a decade before the Japanese bookstore chain saw its promise.
In the same way that a book is more than just a book, Kinokuniya is more than just a store. Inspired by the anatomy of a book, the design process began with an exploration of the physicality of the product experience. The team imagined an experiential space, one that accentuated the atmosphere as much as the products. Ultimately, the team visualized a space that blended the careful craftsmanship of the Pacific Northwest with their brand's belief in the power of story.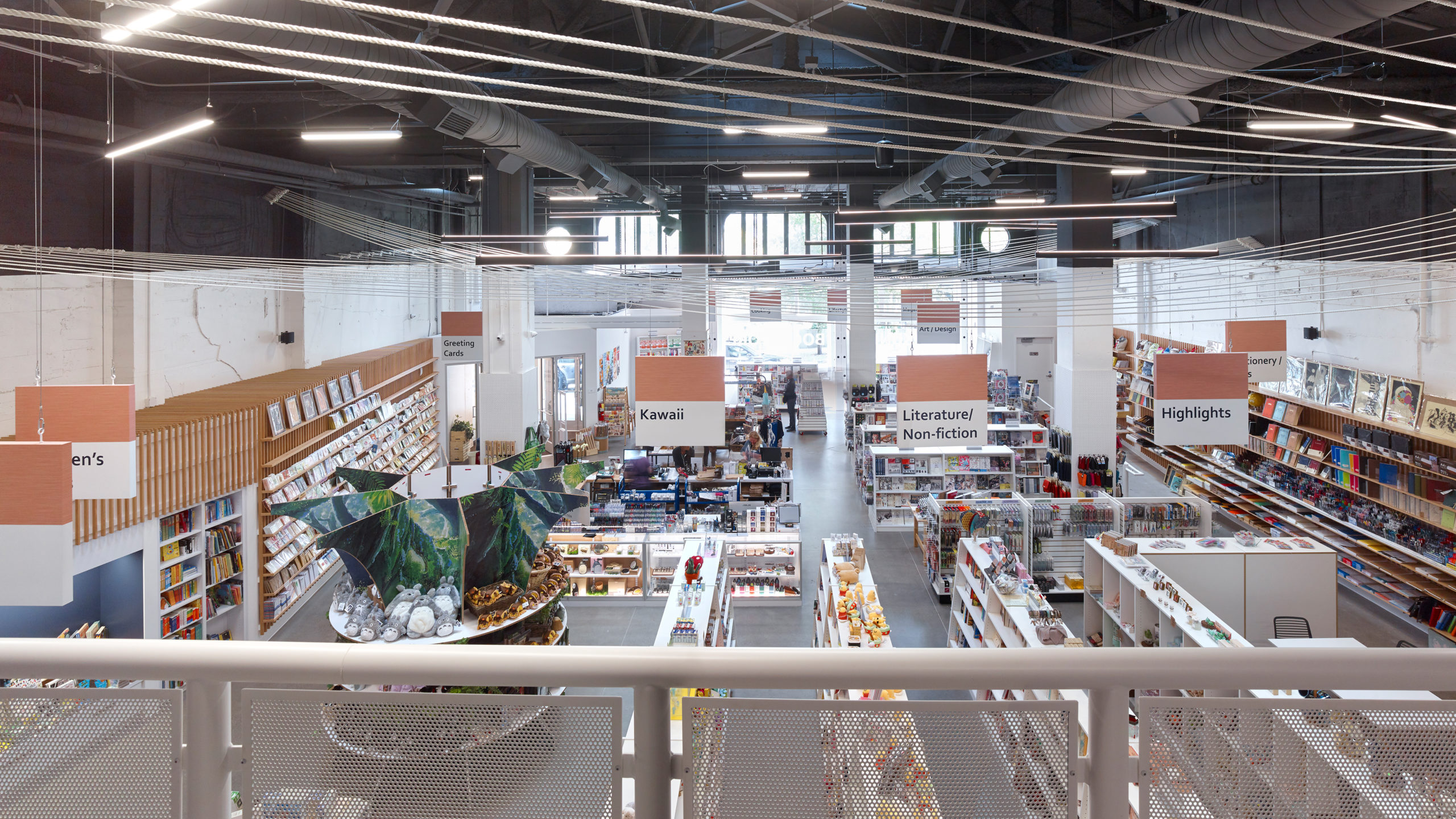 The journey begins at the street level. The exterior isn't heavily branded, but like any good mystery, the design sparks curiosity and draws people inside, where the journey begins.
The interior floor plan imbues a sense of discovery. The experience is contained within rough historic concrete walls accented with wood slats and the immense vaulted ceiling, which features a play of crisscrossing strings and contemporary signage. Fiction shelves are minimally designed and encourage perusing, with quiet nooks nearby for reading. The children's section incorporates elements of play. The staircase seating beside the café can be used for conversation with a new friend or for relaxing with authentic Japanese tea. Upstairs, on the newly constructed and expansive mezzanine, visitors are introduced to new worlds with anime and manga and comic books. Rather than rows upon rows of aisles or indistinct wayfinding signage, a journey through Kinokuniya is defined by these small experiences.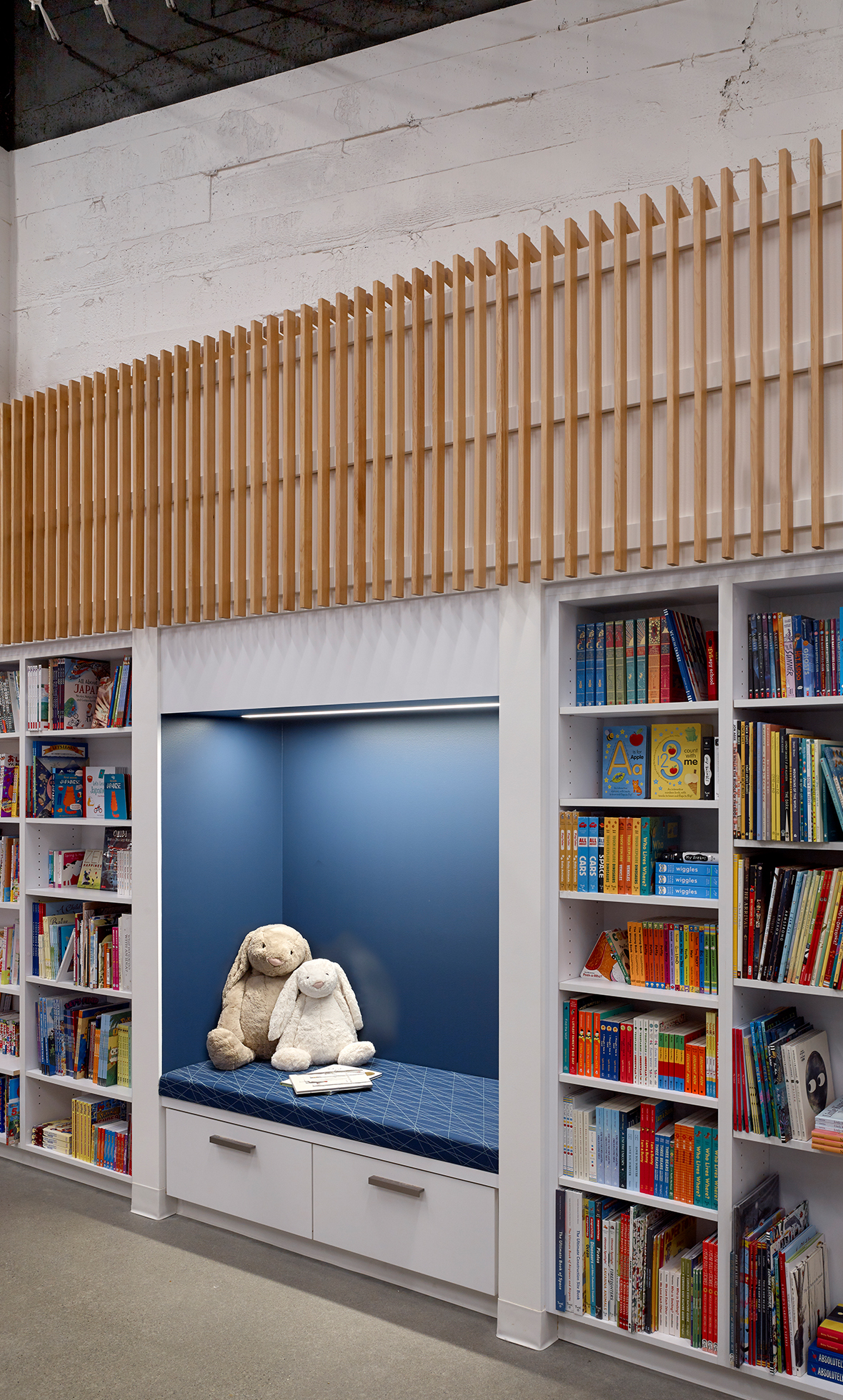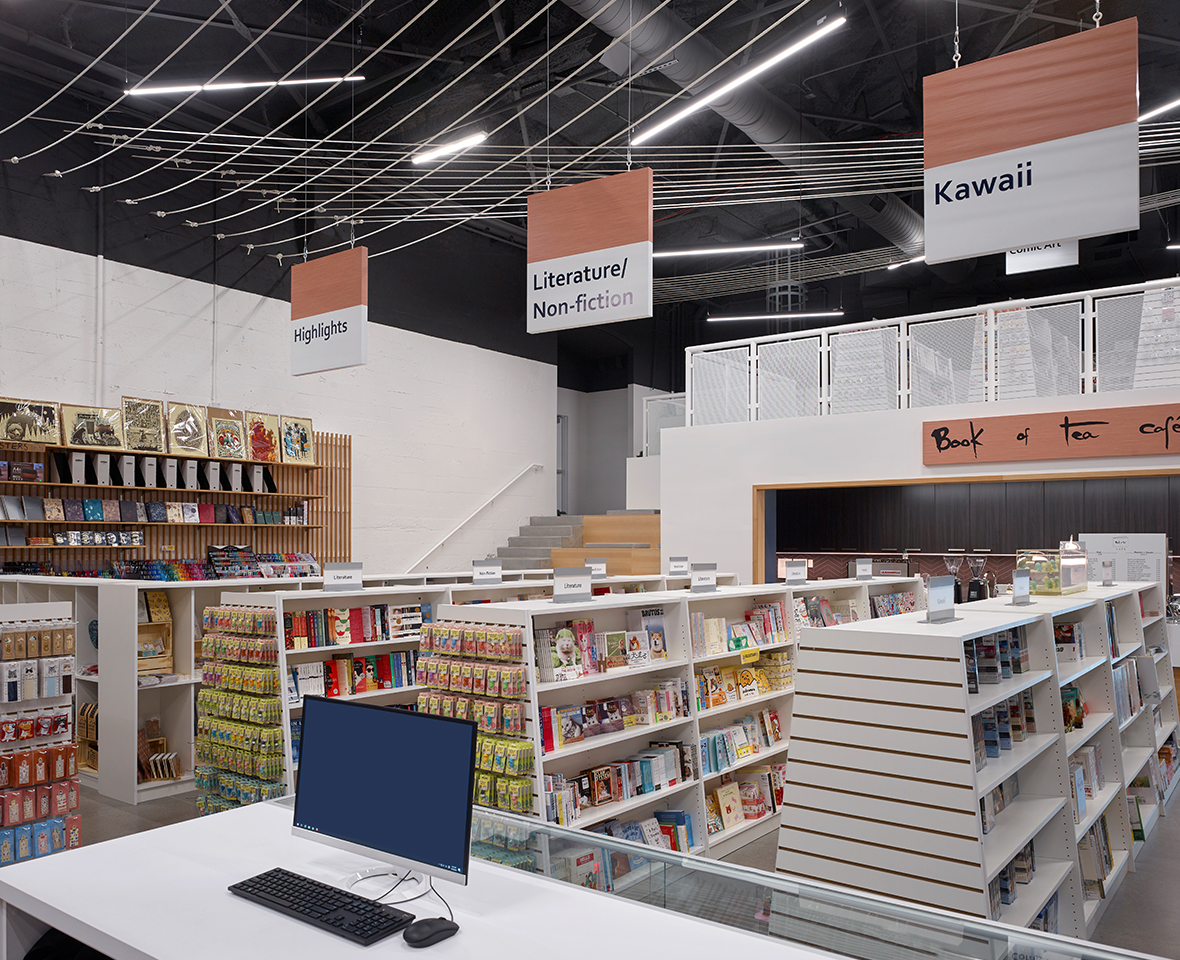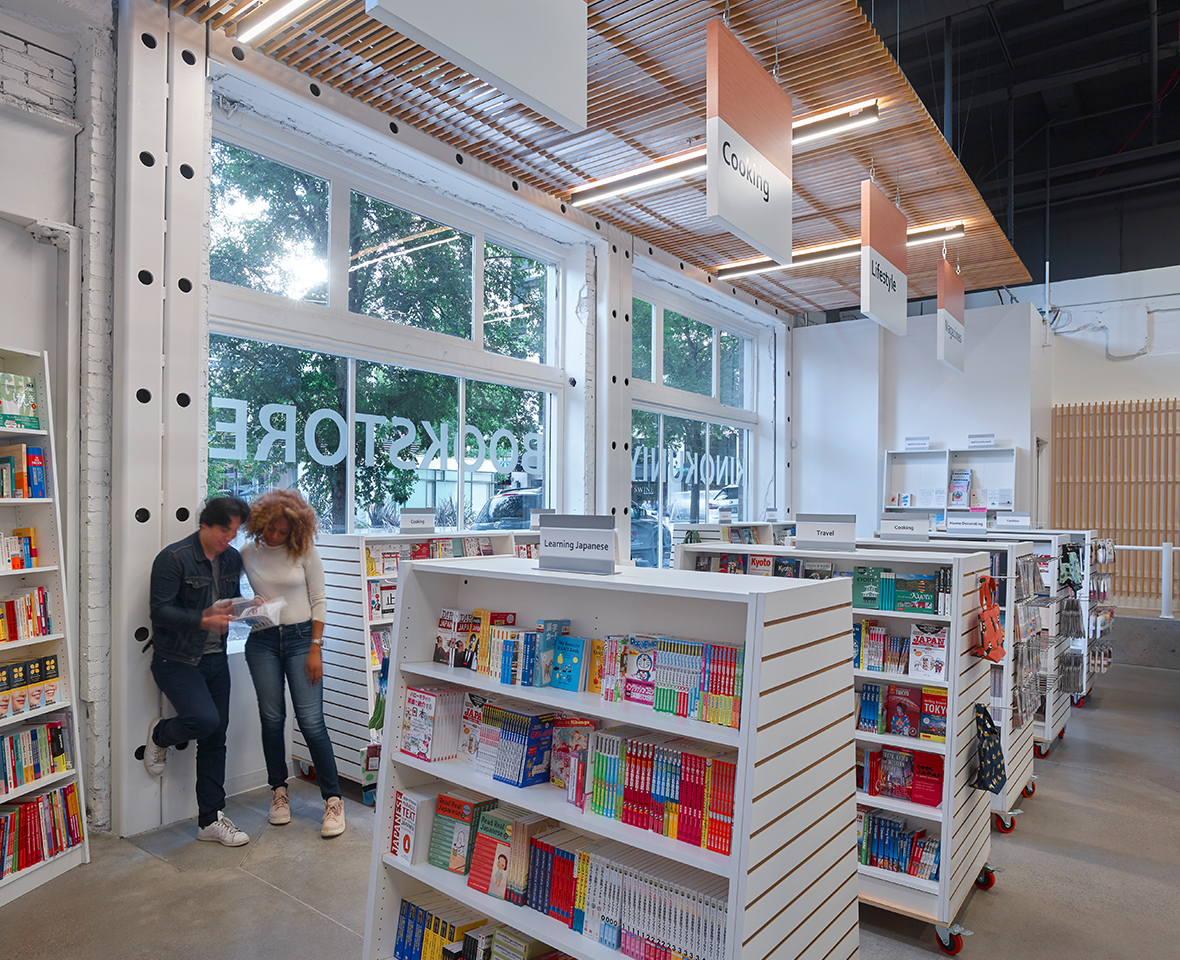 Preserving the history of the Guild Theatre and anchoring the brand in its urban Portland location were paramount to the design. Designers kept the iconic Guild Theatre marquee, which bookstore staff can use to promote sales or visiting authors. Custom shelving and woodwork was crafted onsite and used local material. The landmark stadium-style seating plays on the building's history as an entertainment venue, providing a perfect space for book launches and author events.
Designers also found inspiration in books and brought the medium's design elements into the physical environment. Intentional white space mimics the page while carefully placed shelves and tables provide the content. Mid-tone wood datum lines are reminiscent of book pages. Pops of Kinokuniya blue surprise visitors but play on the brand and distinguish the vibrancy of Japanese literature. A dramatic art display hangs from the ceiling, its strings not unlike the narrative threads running through the books below.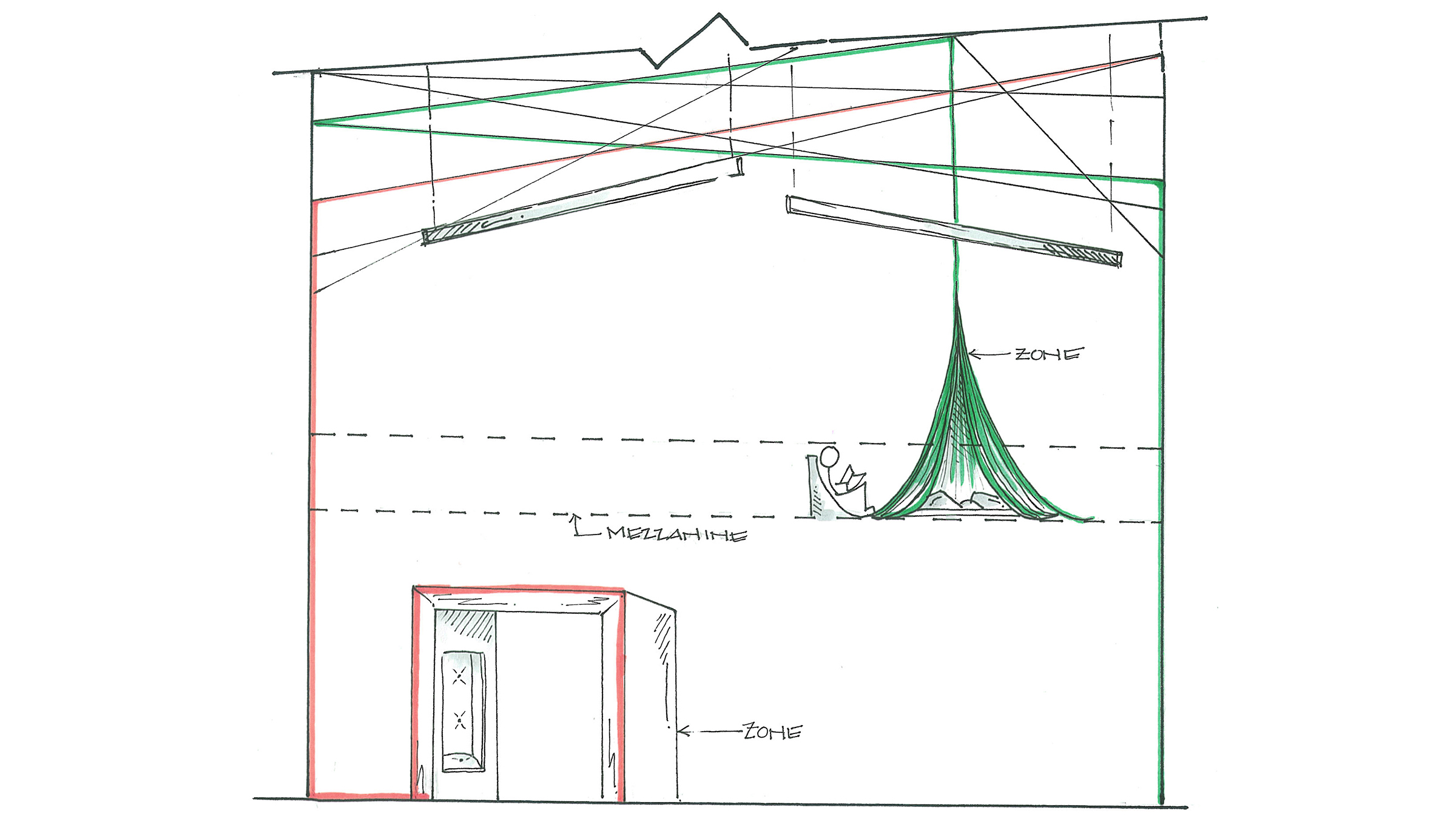 The redevelopment of the Guild Theatre into Portland's Kinokuniya bookstore seems like a natural evolution. The layout lends itself to discovery and exploration and the design honors the past while encouraging guests to engage with what's new and different. Through conscientious planning and responsive design practices, the LRS team and Kinokuniya have added a new chapter to the dynamic history of the Guild Theatre.